When you are applying for your master's program, especially in an international country like Poland. One might consider tuition and other expenses. A fully funded master's scholarship in Poland for international students is a good option.
If you take the scholarship route, that is a wise choice. although one might not get it or get it when it is due. It is important to know how to increase your chances of getting the best fully funded Master's scholarships in Poland for international students.
If you want to know what I am talking about and increase your chances, read to the end. It will be a quick read that gets right to the point.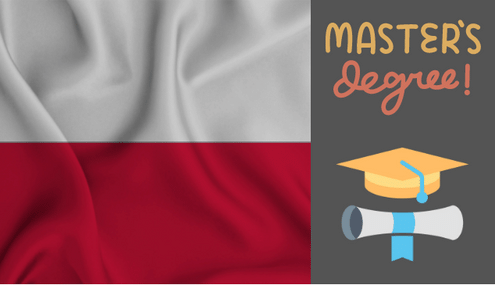 Fully funded master's scholarships in Poland for international students
The Polish National Agency for Academic Exchange (NAWA) Program and the Ministry of Foreign Affairs jointly established the Scholarship Program for International Students to Study a Full-Time Master's Degree Program in Poland.
Most fully funded scholarships in Poland are for doctoral and post-doctoral degrees.
The scholarship program previously covered both masters and doctoral programs. But it is now only for master's programs. Also, other scholarship programs are not fully funded but are partial scholarships.
But this fully funded master's scholarship in Poland, which I consider one of the best, covers tuition, a monthly stipend, relocation allowances, and a dissertation allowance. We'll go over this in greater detail later in the article.
This scholarship program is also known as the Ignacy Ukasiewicz Scholarship Program.
Eligibility Criteria for the Ignacy Ukasiewicz Scholarship Program
Now, this is different from the requirement and its document, which we will cover.
Apply within the given timeframe.
● The application opens in February or March. It closes in May. Furthermore, results are evaluated and announced by August, usually in late August.
The Year Criteria
● There is a criterion for the year you graduated. For example, the earliest year of graduation is 2021.
Language Criteria
● This can be included in the required document, but I decided to put it here. If your course is in Polish, you must complete a 6-month or longer language course. But if it is in English, all you need to do is submit your English proficiency language results.
The Financial Advantages of the Poland Scholarship
Unlike other scholarship programs, tuition is free. The scholarship covers all the tuition, not part of it.
● Monthly Stipend: You receive a monthly stipend of between $1500 and $1700. As a student, this covers rent, insurance, feeding, and other costs.
You have the option of collecting physical cash or opening a bank account.
● 500 EXTRA: You would get an extra $500 when you first enter Poland. This is called the relocation allowance, and it is deemed to assist you in settling down.
At the end of your program, you would also get an extra $500. This is to assist you with your dissertation expenses.
● Visa Fees: Speaking to some Polish students that have enjoyed this scholarship. Some made it known that their visa fees were paid by the Polish embassy. although I do not know if that is the current case.
I would suggest you ask questions and be prepared for either outcome. But whichever way the pendulum swings, you would cover your travel expenses.
APPLICATION PROCESS
In comparison to popular belief, the application process is straightforward. To apply for a Polish scholarship, you must go through the following steps:
Go to the NAWA website.
● Programs and Programs for International Students
● Scroll down and click on the Banach Scholarship Program.
● The other processes are simple.
Apply separately for the university.
● Apply to more than one university, as you can get the scholarship and still not get admission. Visit https://study.gov.pl/
● Ensure you submit all necessary documents on time, and you are good to go.
Documents Required to Apply for the Poland Scholarship
● Transcript
● English Proficiency Score
● Certificate
● Minimum qualification: second-class upper
● Master's thesis proposal
● Aim
● Statement of the problem
● Methodology
● Passport
● Declaration of no other master's degree
● The Most Effective Scholarship Motivation Letter
● recommendation letter for scholarship application
● from the dean, HOD, or vice-chancellor.
● Personal Statement for Scholarship (Personal Statement Examples)
Areas of study
● Engineering and technical sciences
● Agricultural sciences
● Science and natural science
● Social sciences
Points for evaluation
● Description of topic 0-20 points
● Planned methodology: 0–20 points.
● CGPA: 10 points
Conclusion
When applying for a fully funded Master's scholarship in Poland, consider all the above. Also, it is important to note that visa applications are easier when you have a scholarship.
In addition to these scholarships, international students may also be able to find funding through their home country's government or through private organizations. It's important to research the different options available and carefully review the requirements and application process for each scholarship. Some scholarships also require you to have a good knowledge of Polish language.
It is also important to remember that with scholarships, the competition can be fierce and that they are not guaranteed. However, if you are able to secure a scholarship, it can greatly reduce the cost of studying in Poland, and provide you with a valuable opportunity to study abroad.
I hope this helps in your application for the Poland scholarship as an international student.