Scholarships for International Students: International students frequently choose the Netherlands as their location for higher study. A long tradition of academic excellence and a reputation as a welcoming country. The Netherlands is a great place to study and live.
Many universities in the Netherlands offer scholarships to international students. Providing financial support and making the dream of studying in the Netherlands happen.
These scholarships range from full tuition coverage to monthly stipends. It can be based on merit, financial need, or a combination.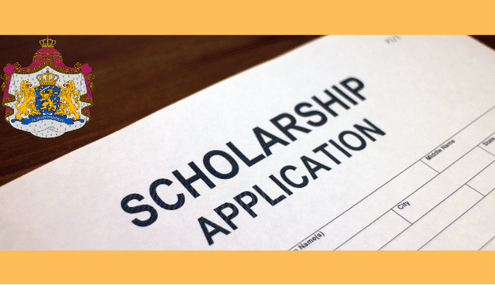 Requirements For Universities In The Netherlands
The requirements for universities in the Netherlands offering scholarships vary. And also the specific scholarship program. The following are common requirements that international students should be aware of:
Academic qualifications: Most scholarships require applicants to have a strong academic record.
The primary language at universities in the Netherlands is English. Many scholarships need applicants to show a high level of English proficiency.
Application documents: This includes a motivation letter, a CV, transcripts, etc. It will also include letters of recommendation and test scores.
Most scholarships require students to enroll in a program at a Dutch university. And keep a good academic record throughout the scholarship period.
Most scholarships are open to international students, not residents of the Netherlands.
Some scholarships are based on financial need. Here, applicants will be asked to provide proof of their financial situation.
It's important to read the criteria. Check the individual university or scholarship program requirements before applying.
Career consultation can also identify potential gaps in an individual's educational background And guide how to fill them. Click here to let us help you make the best decision for your life with no regrets later on.
  Universities That offer Schorlarship for International Students in The Netherlands
  Leiden University Excellence Scholarships (Lexi)
The LExS is open to outstanding students enrolling in a full-time master's. All programs except LLM (non-advanced) and MSc programs are offered for the scholarship.
Website:
  University of Twente Scholarships (UTS)
University Twente Scholarships (UTS) are for excellent students applying for an MSc. For one year, the scholarship value ranges from € 3,000 to € 22,000. In the case of a two-year study program, students can receive an extra UTS. The amount is equal to that in the first year when they meet the processing requirements for the UTS.
Website:
  Radboud Scholarship Scheme
The Radboud Scholarship Program is for a selected number of talented prospective students. They receive a scholarship to pursue a complete English-taught Master's degree program. A partial scholarship will reduce your tuition fee to €2,209. For example, a grant holder in 2022 or 2023 will pay a tuition fee of only €2,209 instead of €16,000.
Website:
  Utrecht Excellence Scholarships (UES)
The UES offers students the chance for a Master's degree in selected fields.
Website:
  Fellowship Program at VU Amsterdam
The program offers students the chance to earn a Master's degree at Vrije Universiteit. The VUFP scholarship covers the tuition fees. It does not include any additional funding for education or living expenses.
Website:
  High Potential Scholarships at Maastricht University in Holland
The program offers 24 full scholarships worth €30,000. This program includes a tuition fee waiver and a monthly stipend.
Website:
  Justus & Louise van Effen Excellence Scholarships
For international students, Delft University of Technology offers several excellent scholarship programs. It aims to support excellent international MSc students wishing to study at TU Delft.
Website:
  Erasmus University Scholarship in Holland
The Dutch Ministry of Education funds the scholarship in partnership with Erasmus University Rotterdam. The scholarship is for international students to do their bachelor's or master's degrees.
Website:
  L-EARN for Impact Scholarship
Erasmus University Rotterdam is offering the L-EARN for Impact Scholarship. This scholarship is open to individuals from developing countries with relevant professional experience. After completing the master's program, you return to your home country. You use your new skills and contribute to your country's social and economic development. The scholarship covers € 15,000 and, if applicable, an additional tuition fee waiver.
Website:
  Amsterdam Merit Scholarships for Excellent International Students
Masters Degree
The University of Amsterdam aims to attract the world's best students to its classrooms. Depending on the faculty, the scholarship can vary between €2,000 and €25,000.
Website:
  Eric Bleumink Scholarships
The scholarships go to talented students and young researchers from developing countries. The scholarships are for a master's degree program lasting one or two years. The grant covers tuition fees, travel costs, subsistence, books, and health insurance.
Website:
  World Citizen Talent Scholarship
Each year, three one-time scholarships are available to prospective master's degree students. Each is worth 5,000 euros. The Hague University of Applied Sciences wants young, intelligent, talented, and ambitious people. People who view themselves as citizens of the world.
Website:
World Citizen Talent Scholarship
  Amsterdam Excellence Scholarships (AES)
The AES awards scholarships to students for master's programs at the University of Amsterdam. The AES is a full scholarship of €25,000. It covers tuition and living expenses for one academic year. There is also the possibility of extending a second year for two-year master's programs.
Website:
Amsterdam Excellence Scholarships (AES)
  Scholarship for the Global Management of Social Issues
Four scholarships are available for candidates at the Tilburg School of Social and Behavioral Sciences. The scholarship will consist of a monthly allowance for living expenses—€10,000 per year for three years.
Website:
Scholarship for the Global Management of Social Issues
  Tilburg University Academic Excellence Scholarships
Tilburg University offers thirty-nine scholarships to deserving international students. These students are admitted to a Master's program (MA, MSc, or LLM). A living expense stipend of € 5,000 and a partial tuition waiver of up to € 10,000. This indicates that the tuition charge for students will only be €2,500.
Website:
Tilburg Excellence Scholarship
If you are looking for extra information on other countries, work abroad, visas, etc., we've got it. Go to this site, click "me," and you will see everything you might need.
Let's continue
Increase Your Chances Of Receiving A Dutch University Scholarship.
Here are a few tips for increasing your chances of getting a scholarship in the Netherlands:
Look for scholarships that fit your qualifications and goals.
Start researching and applying for scholarships well in advance of the application deadline.
Ensure your application is well-written, error-free, and includes all the required materials.
Show your motivation and commitment to your field of study. This includes how you plan to use your education to impact positively.
Network with people in your field of study. Make connections with alums or current students at the universities you're interested in.
Follow up
Following these tips can increase your chances of getting a scholarship. Please note that the selection process is competitive.
Furthermore, a great cover letter is important for scholarship applications. It can show a candidate's qualifications, goals and motivation for pursuing the scholarship. A well-written cover letter can make a candidate stand out among other applicants. Let us assist you in creating that powerful cover letter by clicking here.
Conclusion
Many universities in the Netherlands offer scholarships to international students. This scholarship helps offset the cost of their education. These scholarships are often based on academic merit, financial need, or both.
"Don't miss out on any updates, special offers, or exclusive content! Follow us on our social media pages by clicking here for Instagram and here for LinkedIn.
Final word
Subscribing to our email list will help you stay ahead of the competition and take control of your life. By subscribing, you'll be the first to know about all the latest job openings and career advice. Click here