As a foreigner legally working in Poland, you enjoy the same benefits as its citizens. Also, you enjoy the same benefits the company gives other workers from Poland.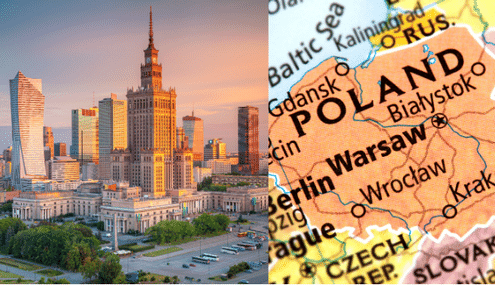 Before we dive into the benefits, I want to let you know the various ways in which you can get a job or start working in Poland.
Work While Studying
By working part-time while you are a student, you can contribute to the cost of your education.
International students can work while they are studying in Poland. International students need to present their proof of studentship to the company. Additionally, international students must have a current resident permit.
All students can work, including:
● Those studying in Poland for the first time
● Those participating in the first year of a university program
● Those who are full-time language students,
You get 20 hours of labor per week while studying. Also, you get three full vacation months of employment.
Holders of a residence card may work full-time.
Work Following Graduation
After graduating, students from EU nations may work in Poland without any restrictions. After you finish your schooling here, it might be quite difficult for you to leave such a stunning place.
If you would rather remain and work in Poland, don't worry. You can work here without a permit. If you've completed a full-time program at a Polish higher education institution.
Check that your stay permit is still valid. Also, you must prove that you can sustain yourself without government help. You can stay for another two to three years.
A work permit can be obtained by students who find jobs or accept employment.
Directly Locating Work
To work in another nation, you need both a work permit and a work visa. There are several methods for obtaining a work permit. Either you apply online, and the employer issues you a work permit. You submit an application using a job-finding service. You could also ask a friend who lives in Poland to assist you in finding employment. He or she will also help apply for a work permit.
For more information about work visas, see this page.
With that said, let's dive into the benefits.
Leave For Illness And Disability
If an employee is unable to work due to illness, they get 80% of their salary. For employees 50 years of age or older, where this lasts more than 14 days in a year. There is a provision for isolation brought on by a contagious illness that lasts longer than 33 days in a year.
An employee is entitled to 100% of her wages. If she is unable to work due to a pregnancy-related illness during the allotted time frame. The worker is qualified for Social Insurance Agency sickness payments. if the period of disability from work is extended.
A person with a severe or moderate degree of disability is entitled to an extra ten days off work per year.
Hourly Pay And The Minimum Wage
There is a minimum salary that the government has set for Poland. At the very least, this wage should be paid to every employee in Poland. The minimum wage in Poland is PLN 18.30 per hour and PLN 2,800.00 per month.
Legal action is being taken against employers who fail to pay the minimum wage in Poland.
Employees must get their pay by the 10th of the following month. Salaries are paid monthly. The typical work week in Poland is no longer than 40 hours and 8 hours every day. Overtime compensation is necessary if work time limitations are implemented.
A week's worth of work is capped at 48 hours, while a year's worth of overtime is limited to 150 hours. After working a maximum of 45 hours per week, overtime is due.
If the overtime is completed at night, on Sundays, or holidays. It is paid at the statutory rate of 200% of the employee's regular salary. Employees are entitled to 150% of their regular compensation for any overtime they put in.
Insurances
There is a mandatory insurance package in Poland, like in other EU nations. It consists of a pension (PPK), social insurance, and occupational medical.
Private medical insurance, life insurance, and business travel insurance are examples of supplemental benefits that employers are not required to provide in Poland.
Indeed, this offers a chance for companies with a forward-thinking attitude. You can set your company apart from the competition. By including more than basic provisions in the packages you provide to employees.
Poland's Living Expenses
Even though Poland is a member of the European Union It is an Eastern European nation. And its living expenses are lower than those of other western European nations. The level of living is also lower than in any other western nation. But this is changing as a result of the economic recovery.
  International Setting
Many foreign businesses choose Poland because of its favorable location and growing economy. Many businesses have branches or even their main offices here.
Working in a global environment and gaining new experiences is easier than ever before.
Hours Of Operation And Compensated Time Off In Poland
The standard workweek is 40 hours or 8 hours per day. The maximum amount of weekly overtime is 48 hours per week or 150 hours per year. If an individual has been working for less than ten years, they are entitled to 20 days of annual leave. The employee is entitled to 26 days of yearly leave if he or she has worked for the company for at least ten years.
Safety
In general, Poland has a low crime rate. Day or night, people feel secure and may move freely across the cities. Poland was classified as the 15th safest city in Europe by Numbeo in 2019. (15 out of 39). With a crime index of only 30.09, Poland is a fantastic vacation spot for families with young children. Furthermore, the nation hardly ever experiences natural disasters like tornadoes, earthquakes, etc.
Economy
The Polish economy has grown over the past few years, and this trend is still going strong today. As a result, businesses increase their investments and add new positions daily. People can take advantage of this to advance their knowledge, abilities, and careers.
Other Benefits
Working in Poland provides other benefits, such as its convenient location. This makes traveling to other European nations by plane quick and inexpensive.
Foreigners may easily live there on a little salary due to the high standard of living in the nation. since English is widely spoken in the nation. Learning Polish is not necessary to converse with the inhabitants.
Poland is home to many huge international firms that employ workers from all over the world. This promotes an inclusive workplace. More work opportunities have arisen as a result of the recent rapid growth of the IT sector.
Companies here offer young professionals good options and help them choose their future paths.
Conclusion
The world offers a plethora of opportunities. There are lots of benefits to working in Poland as a foreigner. All you need to do is plan, execute, and travel to Poland. I will be gentle with you. It is not easy; nothing great in life is. But no matter, keep your head up high, and you will achieve whatever it is that you want.
I wish you all the best and keep on soaring high.