Opens: August 1 every year
Deadline: November 15 of every year.
Time: 11:59 pm Pacific Standard Time
About AAUW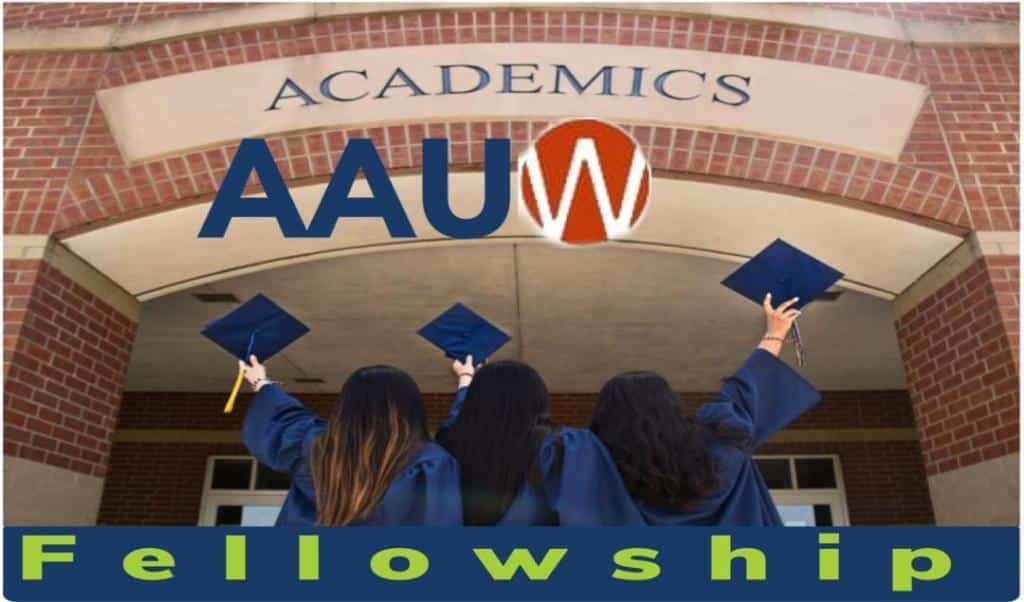 Since 1888, AAUW has been one of the largest funders of women's graduate education, investing in women who go on to change the world.
Women have been treated inhumanely and in ways that go against basic human rights like the right to life, liberty, and security, as well as the freedoms of speech and education, at different times in history. A lot of women put in a lot of effort to see that these things were stopped by advocating for gender equity for women and girls. Movements,
campaigns and programs have been created to give women an opportunity to exercise their
displeasure with these violations against women's rights and after what seemed like a very long
time, the voice of these women was heard and there was a lot of positive change. These
positive changes gave birth to platforms that allowed women to exercise their rights, train and
urge other women to do so too. One of the platforms that were used to do this is the AAUW
Fellowship.
The American Association of University Women (AAUW) Fellowship, founded in the year 1881
by a small group of female graduates was able to create opportunities for women to go further
in their careers and education. The mission of these women was to fight for gender equity
through research and education by proving that women could excel in these areas when given
the opportunity to do so. The AAUW International Fellowship was used to give women a chance
to further their academic dreams.
In line with their mission to help women get academic excellence, the AAUW International
Fellowship decided to come up with a grant program that would give many women in the
international community a fully funded opportunity to reach their academic goals.
The AAUW International Fellowship Program has been in existence since 1917. The program has
been used to give a shot to women who are not citizens of the US and have intentions of going
back to their home country after studying to pursue a professional career the chance to do so
and get a master's, doctoral or post-doctoral degree in the US.
Every year, more than two hundred women are awarded a fellowship and grant by AAUW. The
fund that will be awarded to the winners of the grant ranges from $20,000 to $50,000
depending on what degree you are pursuing. Application for the form begins on the 1st of
August every year and ends on the 15th of November every year by 11:59 pm Pacific Standard
Time.
For you to be able to apply for this grant, you should have a U.S Bachelor's degree or an
equivalent and you must have applied to your desired institution of study by the time you are
applying for the grant. Also, you should be an international student with a U.S student visa and
you should also know that you must have the intentions of returning back to your home country
to pursue a professional career as this is one of the criteria for getting the grant.
AAUW International Fellowship Program Eligibility Criteria
Although some of them have been mentioned above, the eligibility criteria for applying for the
AAUW scholarship are:
You must be a woman or identify as one. This is a special restriction.
You must be a citizen of another country or have a nonimmigrant visa if you are residing in the US.
You should have a U.S bachelor's degree or an equivalent and you must complete your academic year on or before November 15th, the deadline for application.
You must be studying a full-time program or research program for a year as international fellowships do not give funds for half a year of study.
You must be able to communicate in the English language and you should submit your
TOEFL score or any other English language exam score that is accepted by the fellowship. You should also know that a doctoral grant is awarded to only doctorate candidates as a research degree, post-doctoral candidates should have a doctorate and master's or first professional degree candidates should also have a bachelor's degree gotten from a US-approved institution within the country.
You must be ready to go back to your home country to pursue a professional career once you are done studying.
A non-plagiarized SOP
Benefits of the AAUW International Fellowship Program grants
The benefits of getting this grant might not be as enticing as some grant offers you might have
seen but they take care of a lot of important things. Some of the benefits of this grant are:
The fund is awarded to the candidate based on the program they want to pursue.
Master's degree or first professional degree candidates are awarded $20,000. Doctoral
degree candidates are awarded $25,000 and Post-doctoral degree candidates are
awarded $50,000.
The grant is also available for things like educational costs, travelling costs, living
expenses and dependent child care.
Eligible Countries
Applicants from these countries are eligible for the grant.
∙India
∙UK
∙ Australia
∙Singapore
∙New Zealand
∙Canada
∙Germany
∙Malaysia
∙Sweden
∙France
∙Switzerland
∙Netherlands
∙Denmark
∙Spain
∙Russia
∙UAE
∙Ireland
∙Italy
∙Poland
∙Portugal
∙Norway
∙Japan
∙Thailand
∙Belgium
∙Armenia
∙Fiji
∙China
∙South Korea
∙Greece
∙Mauritius
∙Estonia
∙Luxembourg
∙Ukraine
∙South Africa
∙Hungary
∙Austria
∙Slovenia
∙Philippines
∙Cyprus
∙Bangladesh,
∙Lithuania
∙Monaco
∙Nepal
∙Georgia
∙Hong Kong
∙Turkey
∙Malta
∙Bahrain
∙Barbados
∙Guyana
∙Afghanistan
∙Albania
∙Algeria
∙American Samoa
∙Andorra, Angola
∙Anguilla, Antarctica
∙Antigua and Barbuda
∙Argentina
∙Aruba
∙Azerbaijan
∙Bahamas
∙Belarus
∙Belize
∙Benin
∙Bermuda
∙Bhutan
∙Bolivia
∙Bosnia and Herzegovina
∙Botswana
∙Brazil
∙British Indian Ocean Territory
∙British Virgin Islands
∙Brunei
∙Bulgaria
∙Burkina Faso
∙Burundi
∙Cambodia
∙Cameroon
∙Cape Verde
∙Cayman Islands
∙Central African Republic
∙Chad
∙Chile
∙Christmas Island
∙Cocos Islands
∙Colombia
∙Comoros
∙Cook Islands
∙Costa Rica
∙Croatia
∙Cuba
∙Curacao
∙Czech Republic
∙Democratic Republic of the Congo,
∙Djibouti
∙Dominica
∙Dominican Republic
East Timor Ecuador
Egypt
El Salvador
Equatorial Guinea
Eritrea
Ethiopia
Falkland Islands
Faroe Islands
Finland
French Polynesia
Gabon
Gambia
Ghana
Gibraltar
Greenland
Grenada
Guam
Guatemala
Guernsey
Guinea
Guinea-Bissau
Haiti
Honduras
Iceland
Indonesia
Iran
Iraq
Isle of Man
Israel
Ivory Coast
Jamaica
Jersey
Jordan
Kazakhstan
Kenya
Kiribati
Kosovo
Kuwait
Kyrgyzstan
Laos
Latvia
Lebanon
Lesotho
Liberia
Libya
Liechtenstein
Macao
Macedonia
Madagascar
Malawi
Maldives
Mali
Marshall Islands
Mauritania
Mayotte
Mexico
Micronesia
Moldova
Mongolia
Montenegro
Montserrat
Morocco
Mozambique
Myanmar
Namibia
Nauru
Netherlands Antilles
New Caledonia
Nicaragua
Niger
Nigeria
Niue
North Korea
Northern Mariana Islands
Oman
Pakistan
Palau
Palestine
Panama
Papua New Guinea,
Paraguay, Peru
Pitcairn
Puerto Rico
Qatar
Republic of the Congo
Reunion
Romania
Rwanda
Saint Barthelemy
Saint Helena,
Saint Kitts and Nevis
Saint Lucia
Saint Martin
Saint Pierre and Miquelon
Saint Vincent and the Grenadines
Samoa
San Marino
Sao Tome and Principe
Saudi Arabia
Senegal
Serbia
Seychelles
Sierra Leone
Sint Maarten
Slovakia
Solomon Islands
Somalia
South Sudan
Sri Lanka
Sudan
Suriname
Svalbard and Jan Mayen
Swaziland
Syria
Taiwan
Tajikistan
Tanzania
Togo
Tokelau
Tonga
Trinidad and Tobago
Tunisia
Turkmenistan
Turks and Caicos Islands
Tuvalu
U.S. Virgin Islands
Uganda
Uruguay
Uzbekistan
Vanuatu
Vatican
Venezuela
Vietnam
Wallis and Futuna
Western Sahara
Yemen
Zambia
Zimbabwe
There is no barrier based on geographical zone, religion, race, social-economic status and
orientation, age, disability and ethnicity too.
Important Dates
The application starts on August 1st, 2022.
The application deadline is November 15th, 2022
Notification of acceptance via email starts on April 15th, 2023
The Fellowship year begins on July 1st, 2023 to June 30th, 2024.
Important Documents
Some of the important documents that will be asked for are:
Proof of your highest education degree and it should not be anything lower than an
undergraduate degree.
Proof of registration in your current institution
Evidence of doctorate provided by post-doctorate candidates. Transcripts, a copy of the
diploma or an official letter from the organization's graduation can be used.
Valid proof of English language tests like IELTS and TOEFL scores. Minimum scores for the
tests are: A. TOEFL iBT (internet-based tests) – 79
B. TOEFL paper-based – 60
C. IELTS – 6.5
Academic transcripts or a secondary diploma of an undergraduate degree from a University that
speaks English or an entire semester of a full time study in your chosen field in an English
speaking institution.
How to Apply To Women International Program.
Go to the fellowship's website and click on Apply here.
When you click on the link, you will be directed to a page where you have to register and fill in
the necessary information. After submitting, you will have to wait for the panel to meet and
decide if you are qualified. The panel meets once a year.
Before you apply, make sure that all your necessary documents are ready so that you will be
able to provide the right information.
For more schorlarship offers click here