As a foreigner, you need a visa to visit or enter another country.
A visa is some sort of authorization given to you by the government of the country you want to travel to. It allows you to visit or leave the country as you wish.
 

 

Types of Swiss Visa

They are different types of Swiss visas and each of them has different validity periods. Swiss visas can be categorized into the following:
Short-stay visa
Long-stay visa
Single entry visa and
Multiple entry visa
 

 

Short-stay visa

A short-stay visa allows you to visit and stay in Switzerland for 90 days if you don't have a residence permit. It can also be called a "Type C" visa or "Schengen visa".

The short-term visa can be used to visit Switzerland for the following purpose:
Business
Cultural
Medical
Official Visit
Sports
Study
Tourism (Switzerland Tourist visa)
Visiting Family or Friends
 

 

Long-term visa

Also known as a "Type D" visa or "National visa" is a visa that allows you to stay in Switzerland for more than 90 days. You can stay for as long as a year and it can be used to enter Switzerland for the following purposes:
Employment (Switzerland Work Visa)
Family reunion
Studies (Switzerland Student Visa)
Medical reasons
 

 

Single entry visa

A single-entry visa allows you to enter Switzerland only once.
Multiple entry visa
This allows you to enter Switzerland as many times as possible depending on the validity of the visa.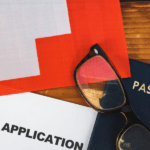 How to apply

Follow these simple steps to apply for and obtain a Swiss visa.
 

See if you need a visa to visit Switzerland
Getting a visa to enter Switzerland depends on what country you are from. If you are from any of the European Union (EU) or European Economic Area (EEA) countries, you can enter Switzerland without a visa and stay for up to 90 days.
 

Determine what type of visa you need based on your purpose for coming to Switzerland
They are different visa types for business, tourism, education, employment, etc.
You can apply through the Swiss Embassy or consulate in your country. If your country does not have a Swiss Embassy or consulate, you can look for other Schengen area countries with an outsourced visa application or apply to the Swiss State Secretariat for Migration (SEM).
It is improper to work into your country's Swiss embassy or consulate to submit your application form. You can book the appointment online or go to the embassy to do so. It depends on your country.
 

Gather all the necessary documents
After booking your appointment, put together all the necessary documents that will be needed to complete your application process while you prepare for the interview.
Once your appointment has been fixed, you must arrive at the venue for the appointment as early as possible and in person. Come with all the necessary documents and your filled-out application form as you will be submitting them after your appointment. In the interview, you will be asked questions about your personal life, education, professional life, the reason for your visit to Switzerland, and many other questions. Try as much as you can to answer every question to the best of your ability.
As you submit your application form and documents after the interview, you will be asked to also pay a non-refundable fee. Whether your application gets rejected or not, you will not get your money back.
After the interview, you might get anxious wondering if your application will be accepted or not. All you have to do is relax and hope that you get accepted.
If your application gets accepted, you will be given your passport with a sticker on it indicating the validity period of your visa as well as the entry and exit date. If your application gets rejected, you will be given a letter stating why it was rejected.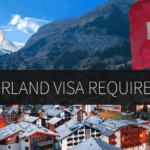 Requirements needed to apply for a Switzerland Visa

Although each visa type has some requirements peculiar to them (like the Switzerland Student and Work Visa), below are some of the general requirements for every visa type.
A Complete Swiss Visa application form with correct information.

Two passport-sized photographs that are identical and comply with the Switzerland visa photo requirements

A passport valid for at least 3 months beyond the return date, no older than 10 years, and containing at least two blank pages.

Photocopies of current and previous passports/other travel documents.

Medical insurance that covers your entire stay in Switzerland.

A cover letter stating your reason for applying to visit Switzerland, how long you plan to stay, when you will leave, and other details

Flight itinerary or proof of booked flight tickets. This should specify flight numbers, dates, and your details.

Proof of accommodation in Switzerland. It could be a hotel or a relative's place.

Proof of civil status. This could be a marriage certificate, birth certificate of children, or death certificate of a spouse.

Proof of funds for your stay in Switzerland.

Proof of paid Swiss Visa fee.
  Conclusion
The visa process can be quite tedious however with the right help, you can get your visa with little to no stress.
If you want to use a visa agency to help you get your visa, make sure that the visa agency is authentic to avoid falling for scams.
For more travel updates, make sure you visit Elite digest.