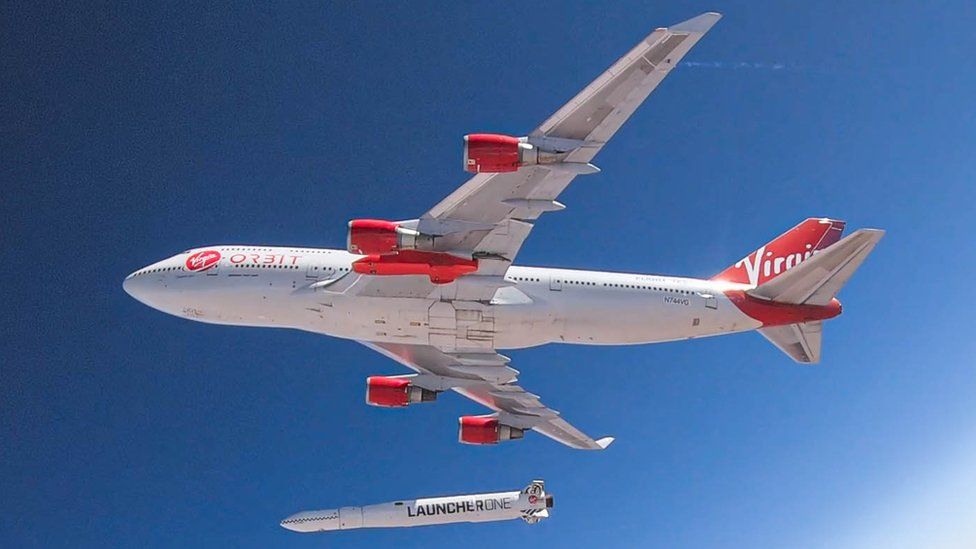 By Peter Hoskins
Business reporter
Sir Richard Branson's rocket company Virgin Orbit has shut down, just months after a major mission failure.
It comes weeks after the firm set up to launch satellites paused operations to try and boost its finances.
It had been selling off items it owns in a bid to survive, including its jet, named Cosmic Girl, as well as most of its headquarters in California.
The mission was billed as a milestone for UK space exploration.
It had been hoped the launch, called Start Me Up after the 1981 Rolling Stones hit, would turn the country into a global player – from manufacturing satellites to building rockets and creating new spaceports.
But Cosmic Girl experienced an anomaly which "prematurely ended" the first burn and Sir Richard's space dream was all but over.
Two months later the company "paused all operations" in an apparent attempt to shore up its finances and almost all employees were laid off.
The Virgin boss is no stranger to financial difficulties.
Earlier this month Sir Richard told the BBC he had personally lost around £1.5bn during the pandemic. "There was a time when I thought we were going to lose everything", he said.
He defended space exploration as a worthwhile investment, when asked whether launching rockets should be a priority for the ultra-rich, or is compatible with tackling climate change – a cause to which he has devoted extensive effort and money.
"Communication between people is being transformed because of space travel and satellites up there," he said. "Monitoring things like the depredation of rainforests and illegal fishing… [there are] all these kinds of benefits that come from space travel."
When it became clear Virgin Orbit was unable to secure long-term funding it filed for bankruptcy protection in the US early last month.
Rival start-up firm Rocket Lab has bought Virgin Orbit's headquarters, its rocket factory and equipment.
Virgin Orbit, which was founded in 2017, never made a profit as a public company.
It developed rockets to carry small satellites and was part of Sir Richard's business empire, which includes airline Virgin Atlantic and space tourism company Virgin Galactic.
You may also be interested in:
Related Topics